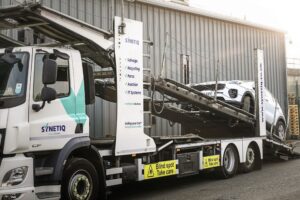 To migrate or not to migrate? That's the question Procurement and Supplier Relationship teams must face at some time or another. When businesses are closely connected through people and process, change can often seem disruptive, risky and difficult to manage.
At SYNETIQ, a smooth transition for new clients is a key part of our offering. At the beginning of the relationship with NFU Mutual, SYNETIQ's bespoke onboarding process played a major part in assuring teams that the transition would be a smooth one.
The catalyst for change
NFU Mutual was looking to ensure full traceability of its Category B salvage. SYNETIQ's policy is to break all ABI Category B vehicles inhouse, crushing bodyshells and any structural components on its UK sites. Compliance, safety and social responsibility are always paramount, ensuring severely damaged vehicles can never return to the road.
SYNETIQ agreed to handle the whole salvage process for NFU Mutual, from the point of vehicle uplift and transportation, through to free storage and compliant disposal.  SYNETIQ handles all logistics inhouse, with dedicated teams and its own fleet of vehicle transporters. This process eliminates insurer risk by preventing the leakage of ABI Category A and B salvage to the market.
Managing the switch
Once SYNETIQ fully understood NFU Mutual's needs and expectations, the migration could begin. A specific SYNETIQ team was set up to manage the transition, with a dedicated phone line and client contact. SYNETIQ organised a conference for NFU Mutual Engineers, with staged vehicle scenes for salvage evaluation and categorisation training.
All NFU Mutual's Regional Claims Centres were visited by Steve Dodson, SYNETIQ's Business Development and Client Relationship Director, who personally managed the onboarding process. "We were able to reassure NFU Mutual that this transition was something we'd done many times before. We agreed measures, controls and scheduled communication to make sure the switch caused as little disruption as possible. We can even underwrite any financial cost involved to give total peace of mind."
Thorough training was also provided on SYNETIQ's industry-leading VISTA salvage management portal. Together with ongoing support from a dedicated Client Support Manager, the team is always ready to offer advice and guidance on case referrals.
Smooth IT integration was vital, allowing NFU Mutual to use the systems to their full capabilities as early as possible. VISTA allows the upload of vehicle photos at the point of collection, meaning NFU Mutual engineers can begin cases as soon as SYNETIQ uplifts the vehicle. Insurer handlers and engineers input pre-accident value and vehicle category, before the salvage is cleared and processed through the correct channel – whether auction, dismantling or recycling. The payment to NFU Mutual is automatically generated by the system and integrated into their Claims system.
"SYNETIQ provided NFU Mutual a seamless transition with a well thought through and supportive strategy, their IT compliments the service offering perfectly, and was intuitive for our handlers to use, the relationship has developed into a value expanding agreement from the outset" – Dale Kirkton, NFU Mutual
Surpassing expectations
SYNETIQ has surpassed expectations for salvage returns and are constantly working with NFU Mutual to explore new ways to enhance the relationship and add value.
SYNETIQ also handles NFU Mutual's Third Party salvage requirements, offering the same competitive rates and compliant disposal model.
A guaranteed "Auto Bridge" agreement has also been set up, catering for exceptional cases. In events where vehicle write-off status is marginal or there are difficulties with parts availability or repair time, SYNETIQ can provide a payment to NFU Mutual to bridge the gap. The agreement avoids other costly measures too, such as the extended loan of a courtesy car provision.
---