Dave Bradley, Ecommerce Sales Manager embarked on the challenge in a bid to raise funds for SYNETIQ's chosen charity for 2021, Macmillan Cancer Support.
The Beyond Lincolnshire Sportive bike ride is SYNETIQ's first fundraising event of the year for Macmillan. Together, the pair raised £770.
Dean Richards, Finance Planning & Analysis Manager also took up the challenge joining Dave in spirit and racking up the miles on the roads closer to home in Cheshire.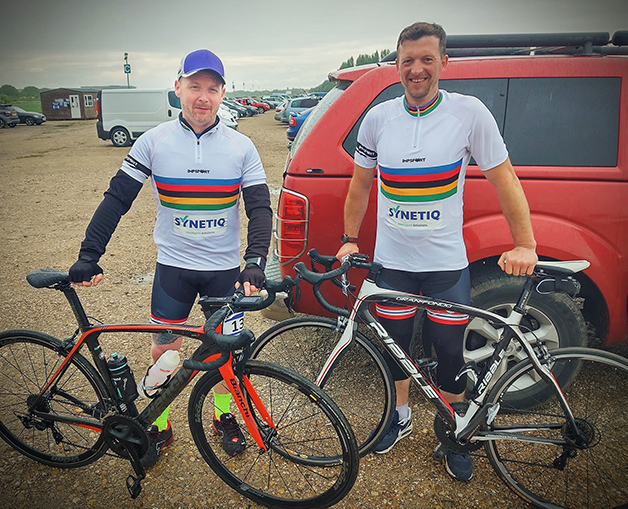 Tom Rumboll, CEO at SYNETIQ said: "We're proud to support deserving charities. Macmillan has helped so many families through the toughest of times which is why our people voted to support this amazing cause. "
The impact of the coronavirus pandemic on people living with cancer has been significant, explained Amy Hebdon, Relationship Fundraising Manager at Macmillan. "There are almost 3 million people living with cancer in the UK and they are facing increasing evidence about the impact of Covid-19 on cancer – at diagnosis, during treatment and at the end of life. Many of them will need information and support, now more than ever.
"We're delighted SYNETIQ employees chose Macmillan Cancer Support as their charity for 2021. Without the support of companies like SYNETIQ, we wouldn't be here to help these people when they really need us."
SYNETIQ, the UK's largest integrated vehicle recycling company, voted to support Macmillan back in March 2021, and it is just one of the many organisations that benefit from the good work that SYNETIQ's Colleague and Community forum carry out.
The forum, which meets each month, offers an opportunity for colleagues to put forward ideas and vote on how best to support the charities and causes in their local communities.
SYNETIQ's teams have walked, cycled and even skydived to raise money for third sector organisations, and the business promises a 'pound for pound' scheme for all colleagues, matching the total raised by individuals for charity up to the value of £500.
Corporate Social Responsibility is a priority for SYNETIQ and the next fundraising activity takes place over the summer. Over 40 colleagues across the business have signed up to Tough Mudder 2021, a punishing mud run and obstacle course.
---