SYNETIQ, the UK's largest integrated salvage and vehicle recycling company, has achieved a bronze accreditation from the Carbon Literacy Project. As the first company in the sector to have achieved the award, the Bronze accreditation further underlines SYNETIQ's commitment to furthering sustainability.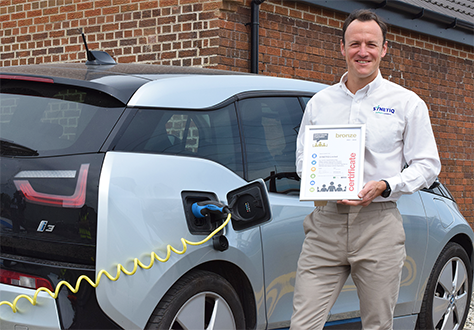 As a Bronze Carbon Literate Organisation, SYNETIQ has demonstrated an awareness of the carbon dioxide costs and impacts of everyday activities, and the ability and motivation to reduce emissions, on an individual, community and organisational basis. 
Carbon Literacy accreditation forms an integral part of 'Our Road to Tomorrow', SYNETIQ's new sustainability initiative and internal roadmap designed to lead the company towards increasing levels of sustainability and ultimately, to achieving carbon neutrality.  
As part of the program, SYNETIQ colleagues have been invited to undergo individual carbon literacy training. Over 130 colleagues across the business have already completed the bespoke training programme or have signed up to take part, with CEO Tom Rumboll being one of the first to become certified.
Tom has himself exchanged his ICE vehicle for an electric BMW i3, as well as installing a bank of chargers across all SYNETIQ sites to encourage other SYNETIQ staff to do the same.  
Tom said: "SYNETIQ is proud to be a bronze accredited member of the Carbon Literacy Project. While we help our clients to achieve significant CO2 savings through the sale and reuse of our green parts, it is integral to our sustainability goals that we minimise our own internal carbon footprint." 
"As part of our internal sustainability strategy, we continue to ensure our own processes are as sustainable as our green parts. From carbon literacy training to   encouraging EV use, we remain committed to sustainability on all levels."   
Commenting on the accreditation, Phil Korbel, Co-Founder of the Carbon Literacy Project said: "SYNETIQ's environmental performance is no marginal issue, it's central to the business, so it's entirely fitting that they are the first Carbon Literate Organisation in their sector. Their Carbon Literacy Training – led from the top – is a tangible sign of their commitment to doing their bit to lessen the climate crisis. I'm sure it will inspire others across the sector and beyond to do the same." 
---