When not in the office, you'll usually find Dave competing in all manner of arduous adventures… His most recent was the most challenging yet.
"ITERA Adventure Racing – it's a lot harder than you'd imagine!
A week ago, I and three teammates set off on our first ever ITERA Expedition Race. This happens to be part of the World Series and hence the toughest of all the adventure races.
Such novices were we that we didn't even know that other adventure races came in shorter distances… But no matter, as this year ITERA was in Scotland.
The event was a 5-day race around Scotland – with the route and activities kept secret until the briefing. We had made rough plans to stop for 4 hours each night and cook up a warm meal too. How innocent we were… Nobody stops that long for such things.

At 8.30am on Monday 12th August, we set off from Dunrobin Castle – magnificent – with a wee 5km run to separate the teams. We then kayaked 20km to Glenmorangie distillery down the coast. Our complete lack of paddling practice showed us up – we finished plumb last.

Now 5 hours, it was time to transition. We managed to pack away our kayaking gear and build our bikes in around an hour so made time on the closest team.
We now had a choice: take the full route of full-on mountain biking and aim for the 3 check points or take the much easier shorter route and take the time penalties. We were under no illusion of how hard this was going to be, so straight to the short course we went.
After 75km of fairly easy terrain, with just the odd nigh-on vertical hike-a-bike and crack navigation by John, we arrived at the next transition at Elphin. We were about 11 hours in now and had overtaken a couple of teams!
Our next transition was fairly slow – taking about 2 hours to complete – so it was dark when we began our paddle down Loch Veyatie, guided by moonlight. This was spectacular, with calm water and an unbelievable display of shooting stars.
At the end of the loch we found some rapids as Loch Veyatie runs into Fionn Loch. The teams on the full route had the small matter of summitting Suilven, a spectacular standalone mountain not for the faint hearted, especially in the dark! It was amazing watching their head torches up and down the mountain.
By now we had sussed the kayaking and were at least going in straight lines, if not that fast. Just as we entered Fionn Loch the fun began with the portaging. This means transporting your kayak overland (see Megan's photo with the red arrows for the route we took – bear in mind this was in the small hours of the morning).
We successfully navigated our way over land and small lochans to Loch Sionacaig and then over to Loch Buine Moire before hitting the road and eventually getting to finally use our portage trolleys. Turned out we were actually quite good at this… We passed the next checkpoint in 8th place and went back into the sea at Loch An
Eisg-brachaidh.
It was now 5am and we had been going non-stop for over 20 hours. We kayaked down to Garvie Bay where, after one long portage through the bog, we hit the road to Achiltibuie and got to use the trolleys again. Back into the kayaks for a paddle down and through the Summer Isles to the Scoraig peninsula.
This is where we started to hit trouble – our kayak just wanted to list and capsize all the time. It should be pointed out it was blowing a nice Force 5 with decent sized waves. Eventually we worked out it was taking on serious amounts of water and so we abandoned ship and a very nice captain from Shearwater Cruises took myself and John to Ullapool. Helen and Megan valiantly rescued our kayak and paddled the whole lot to Ardmair.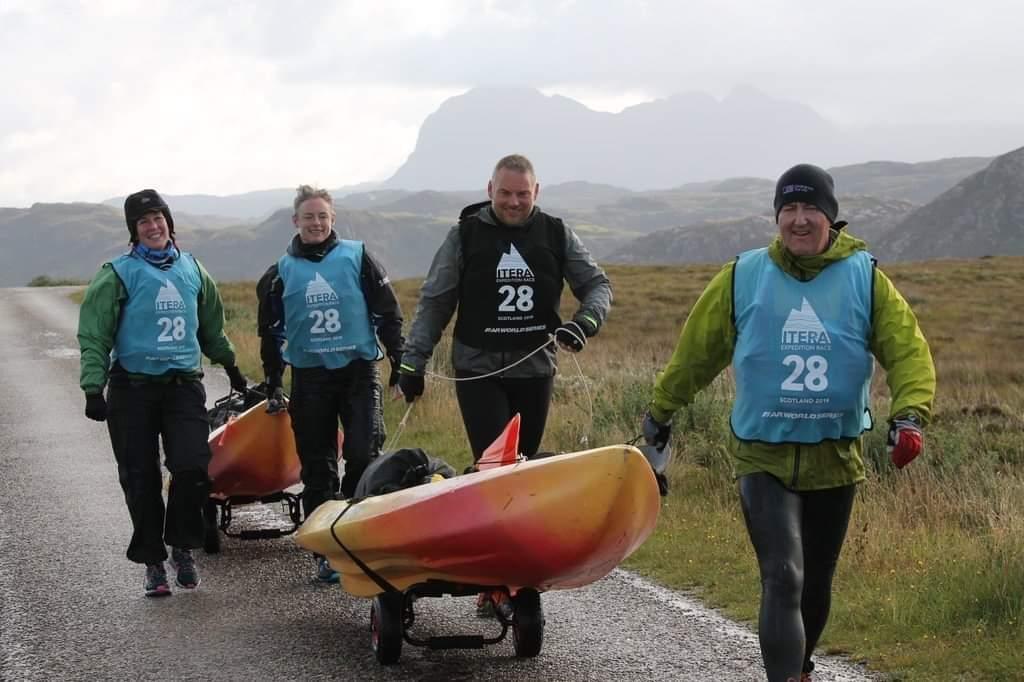 We had now assumed our race was over and again showed our naiveness off here by sitting, chatting and eating in the campsite cafe. Several other teams also beached here because no progress could be made to windward now that the wind was really blowing, however these teams all broke out their emergency shelter and got some much-needed sleep!
At around 8pm the organisers sent a big coach to pick up all the stranded teams and take us to the next transition at Dundonnell. Those teams that had made good use of their time went straight on with the next stage whereas, we put our tent up and eventually got to bed at 10:45pm, some 38 hours after starting!
The next stage was a monster, even for the short course teams – I have no idea how the full course teams managed their stage with much more summits! We continued up An Teallach, then around the ridge and down Sail Liath to Fisherfield. We rose at 1:45am – so just the 3 hours kip. The plan was to be near the summit for dawn and hence have daylight for the highly technical trek around the ridge. There is a spectacular photo of Megan with the sun rising behind her on An Teallach.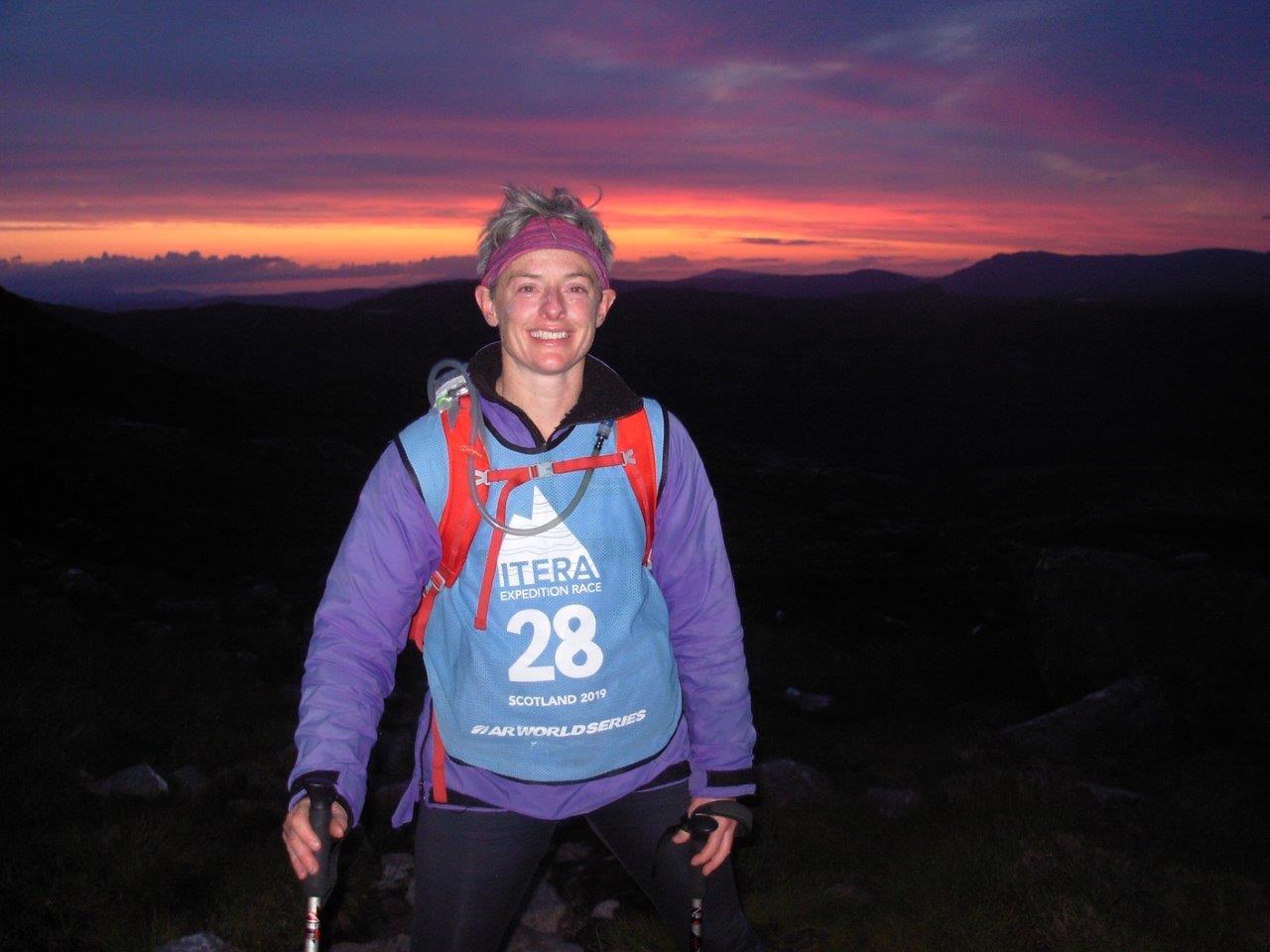 We were slow on An Teallach and its descent but we made good progress across Fisherfield, right up to the point when we got complacent and missed a turn – our first navigational error that cost us a couple of hours and few extra kilometres… In fact, this ended up costing us dearly as there was still another 12km to go, including 6km down the technically difficult Gleann Bianasdail. It was treacherous, especially in our condition and after it had been pelting it down for hours!
The hallucinations that sleep deprivation provides are simply astonishing – forget drugs people, just stay up for a few days with no sleep. We also missed the cut-off of 10pm at the next check point, arriving at midnight after 63 hours on the go with just 3 hours kip.
On the plus side, the weather was so poor that we could bed down inside the transition hall – this is normally not allowed! We got a luxurious 4 hours kip and were packed up and out before 6am.
Although we were timed out, the organisers gave us the option of a bus ride to the next transition – we wouldn't be able to get an official time could experience the rest of the course back across Scotland. The route was supposed to have been a mountain bike round the Applecross peninsula including the Bealach na Bà, the highest road in the UK and which starts at sea level! Then a trek over the Five Sisters of Kintail, followed by a paddle down the River Garry and along Loch Garry with a final mountain bike to Inverness. We were a broken team and we had none of our dry clothing, so as Captain I took the decision to retire us and we took train back to Inverness.
It was the right call and spirits were high on the train. We got some proper kip during the day on Thursday and went down to see the first team cross the line around 3am Friday.
I cannot describe to you how tough it was for us – let alone for the teams that actually finished. They pretty much do it with just 6 hours sleep in a full 5 days of non-stop running, trekking, cycling and kayaking… It simply beggars belief! A full doffing of the cap to everyone involved, as the organisers and marshals also get no sleep".
Would he do it again? "I can say I am bitten and will return this time hoping to just finish the short course! A huge thanks to my wonderful teammates: Helen Farquhar, Megan Davey and John Bennie."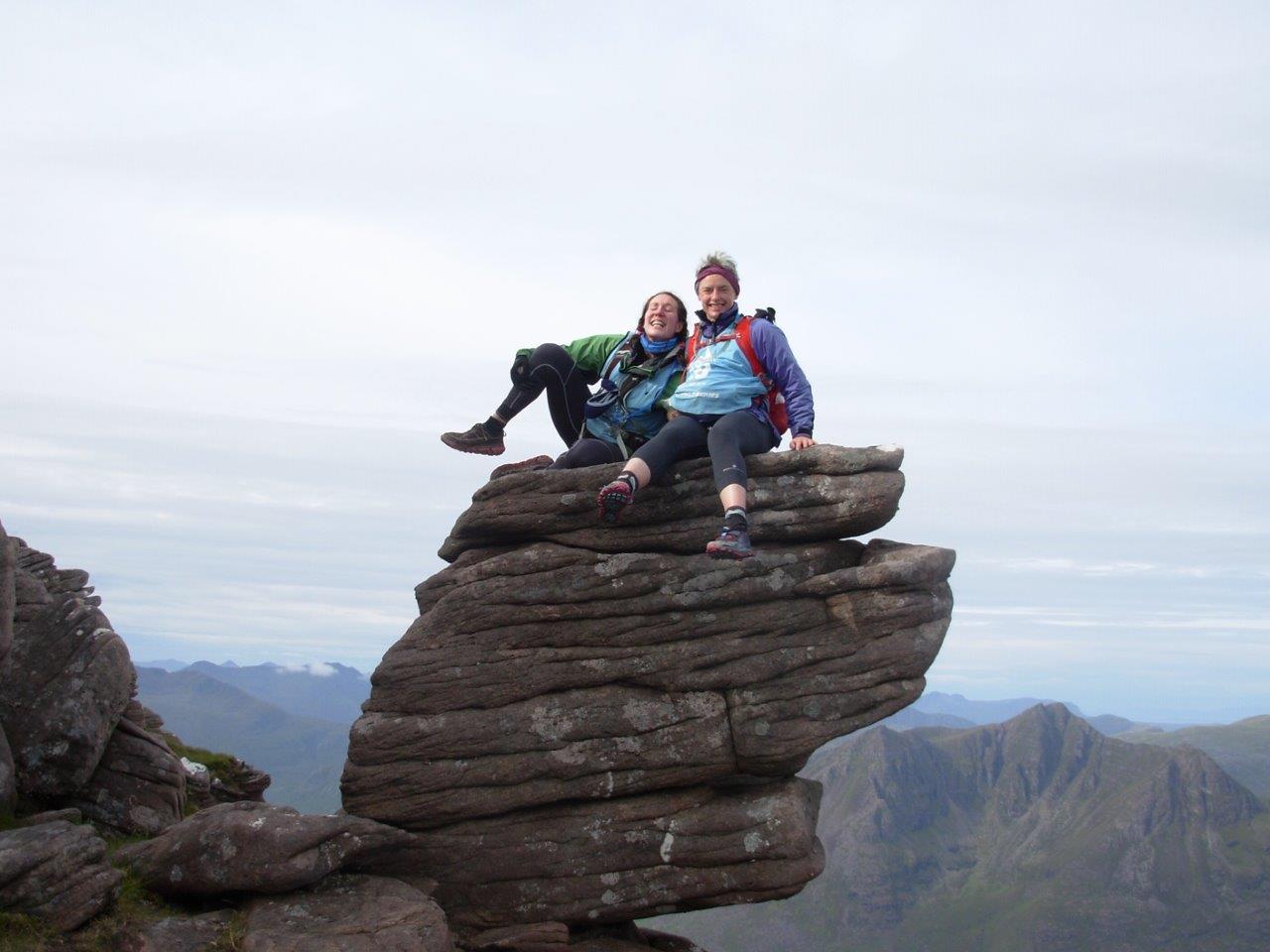 ---